Thanksgiving travel fun? Take the dog ... or cat or bird
Thanksgiving travel with pets doesn't have to be a recipe for disaster. It's easier these days to take your furry friend – just be sure that they're invited.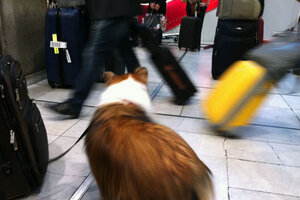 Courtesy of Sheron Long/AP
Travel for humans during holidays is tough enough: Long lines, crowds everywhere, extra bags full of presents. Throw a pet in the mix, and it's a recipe for disaster.
But Sheron Long, a frequent traveler and author of "Dog Trots Globe — To Paris and Provence," says it's worth the trouble.
RELATED: Travel with toddlers – 6 tips for avoiding airplane meltdowns
"Every trip was better when Chula could be with us," she said of her Shetland sheepdog. "She was so excited, I could imagine her dog's eye view of the world. It causes you to explore and go see different things and meet people."
The US Department of Transportation estimates more than 2 million pets and other animals are transported by air each year in America. Pets aren't allowed on Amtrak trains, Greyhound buses or cruise lines, but they can go on many regional train, bus, and boat lines.
---