Norway and paternity leave: Father's day of a different kind
(Read article summary)
Norway has a liberal paternity leave policy that places equal responsibilities on men and women. In turn, this progressively redefines traditional gender roles.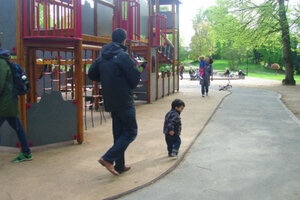 Saleha Mohsin
During my first six months in Norway I noticed that something very peculiar was going on.
It was before my son had a place in day care and we used to go out nearly every day to a playgroup or kiddie center. I got to know a Norwegian named Jeanette and her 6-month-old daughter Agniete. We ran into each other a few times a week and would swap war stories of early parenthood while our kids played.
And that's when it happened – Jeanette disappeared.
I was at one of our usual playgroups and saw Agniete, but her mom was nowhere. Instead Agniete was scooting happily back to a man in his mid-30's. He was too well-dressed to be a nanny and too doting to be a waif uncle. After I ran into him several times, we finally spoke, and it turns out he is Agniete's dad, Tom.
Tom was on pappa permisjon, or paternity leave. He said that his wife had taken six months of her maternity leave but then went back to work for a few months to get things in order, while he stepped in to take care of Agniete. Three months later Jeanette was back home to finish what was left of her mamma permisjon.
The peculiar thing that I had witnessed was the men's rights movement in Norway.
By placing equal responsibilities on men and women, traditional gender roles have been progressively redefined.
Nov. 11 was Father's Day in Norway which in this part of the world is more than just a celebration of dads who teach kids to throw a football. That morning, I made my husband fresh scones to celebrate not only his role as a father, but his rights as a man.
That's right, I'm celebrating the freedom my husband has as a man living in Norway, which give him the right to:
leave the office by 5:30 p.m. to spend time with his family (barring the occasional deadline)
adjust his office hours around day-care pickup/dropoff
have time to organize family dinners and help with housework
---