First black student in white school reflects on family, life
William Peck, one of three students who became the first blacks to attend a Cumberland, Md. white school following a court order in 1955, recalls following his mother's orders: Don't fight back, no matter what the opponents of integration did or said to him as he was going to school.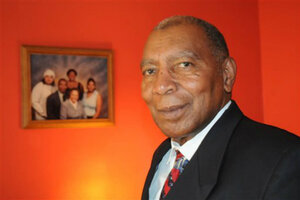 Steve Bittner/Cumberland Times-News/AP
(Editor's note: This article was originally incorrectly attributed to the Associated Press. Michael A. Sawyer of The Times-News of Cumberland reported it; the AP distributed it.)
William Peck received his first 11 years of local education at Carver School and his final one at Fort Hill High School where he and two other students became the first blacks to graduate following court-ordered scholastic integration in 1956.
Peck, now 74 and once again a Cumberland resident, remembers how the experience affected his family.
"My family was very apprehensive," Peck said. "There had been a lot on TV about violence involved with school integration."
A UPI story in the Sept. 2, 1955, Cumberland Evening Times about Maryland school integration included this paragraph: "In Allegany County, where there are only about 270 Negro school children, representing but 1.7 percent of the total enrollment, integration is expected to proceed in conformance with the Supreme Court decision. A total of 54 Negro children have indicated they will attend previously white schools."
Peck, the youngest child in a family of three girls and two boys, said he followed his mother's instructions.
"She said that no matter what was said to me or done to me that I was not to fight back. That turned out to be difficult, but I did it. She engrained it in me."
Peck's mother told him that if he fought back his actions would be exploited and he would be the one made to look bad. People would say integration wasn't working.
"I grew up on Central Avenue and had a lot of white friends. We grew up together, played together, but we didn't go to school together."
Peck said the African-American students walked to the Carver School on Frederick Street.
"The school buses would pick up the white kids and when they went by they would holler at us."
Peck said when he attended Fort Hill that several of the white students were very nice and treated him as a friend.
"There were times, though, when someone would use the N-word loud enough so I could hear it or say that black people didn't take baths or would bring lice to school. And I thought, 'Come smell me, I'm clean.' "
---