Legislation follows a slew of canines killed by police in Colorado
After a number of dog deaths at the hands of police officers, the Colorado legislature is pushing a bill that would mandate three hours of online training for officers statewide in understanding dog behavior and how to handle dogs while on duty.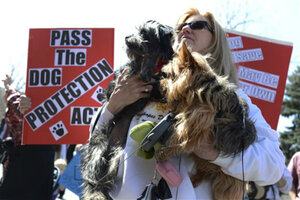 John Leyba, The Denver Post/Associated Press
Scar was an 8-year-old bulldog mix who was fatally shot by a police officer pursuing a suspect, even though witnesses said he never left his yard and was not barking or growling.
Kupa was a service dog who was shot and killed while a sheriff's deputy was responding to a welfare check on her owner.
And Ava was a German shepherd who had a rawhide treat in her mouth and was turning toward her summoning owner when she was fatally shot by an officer responding to a call.
Dog lovers concerned about recent cases where law enforcement fatally shot people's pets lobbied Colorado lawmakers on a bill Wednesday that would require new training for law enforcement on how to handle canine encounters in the line of duty, a legislative idea that appears to be unique in the country.
The bill unanimously passed the Senate Judiciary Committee and will be considered later by the full chamber.
Several dozen dog owners rallied outside the Capitol before the bill was heard. Some held signs that read, "Officer, please don't kill me," with an accompanying picture of a dog. The bill specifically cites canines shot by law enforcement in Colorado, including Scar, Kupa, and Ava.
"I believe that Coloradoans deeply love their dogs and really want us to work hard here at the Capitol to make sure that their dogs are protected," said Republican Sen. David Balmer, a sponsor of the bill. "I should say our dogs are protected. I've got three dogs myself."
The proposal would require sheriff and police departments to offer three hours of online training for deputies and officers on how to recognize dog behaviors and employ nonlethal methods to control them when necessary. The legislation would also direct law enforcement to implement procedures to allow dog owners the option to control or remove their dogs during a non-violent call.
However, the bill creates exemptions for law enforcement to exercise discretion during calls, taking into account their safety and the safety of others in dealing with dogs. Sheriff's deputies assigned to courts or jails are also exempted from the training, as are code enforcement officers.
---