Baby mementos: Would you want this hanging from your neck?
Baby mementos vary from parent to parent. What's worth saving? Hair? Teeth? Breast milk processed into a pendant? You can buy a kit for that on Etsy.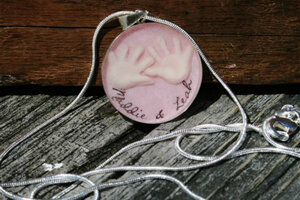 MommyMilk/Associated Press
Strands from baby's first haircut. The first tooth. Tiny footprints sunk into clay. Some parents even tuck away the dried stump of the umbilical cord or the stick pregnancy test as a touching memento marking the milestones of their kids.
The latest? Breast milk jewelry.
Few issues polarize mothers more than breast-feeding, and all things related to breast-feeding, so wearing processed breast milk around the neck or in a bracelet has ignited some passions.
The jewelry, on sale at the handmade marketplace Etsy, is definitely not for writer Ashley McCann, 34, in Naples, Fla. She nursed both her boys, 6 and 9, and loved it, but she feels some sort of gross-out line has been crossed.
"This is the most hilariously absurd trend in mommy jewelry that I have ever heard about in my life," she said. "I think it is just flat-out weird, to be honest."
In addition to finished jewelry, a search on Etsy produces sellers of breast milk soap and one offering a locket kit for the DIY inclined. A couple purveyors, both moms, said in interviews that they hit on the idea as they sought out unusual keepsakes of their special bonds with their babies during nursing.
The two wouldn't reveal their recipes for processing the milk, which is covered with a glaze or clear resin after it is plasticized or dehydrated, forming a clay-like substance that hardens over time when at least one method is used.
Prices range from $15 for the kit, which includes various locket designs, to $125 for a double pendant in copper bezels with a matching vintage chain.
"What a wonderful way to preserve the 'liquid gold' that we are only able to make for a certain period of time," reads the product description for the latter. "This can be passed down for generations and what a fantastic gift to give to your child, the root of their survival."
---