NYC breastfeeding: a new-old plan to wean the world off formula
Remember the Nestlé formula boycott? The long-term global effort to encourage breastfeeding as a healthier choice for newborns than formula – once focused on developing nations – is now a trend among US hospitals. But a new program to decrease the use of formula in hospitals, backed by NYC Mayor Michael Bloomberg, is being criticized as meddling in the decisions of mothers.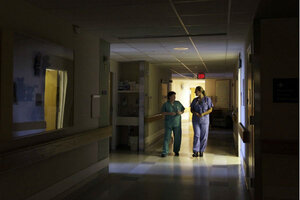 Elise Amendola/AP
The collective howl of "nanny state" that met New York City Mayor Michael Bloomberg's new "Latch On NYC" program, aimed at encouraging breastfeeding over formula, seems to have overshadowed the fact that the program is part of a well-established trend supported by medial associations, the World Health Organization (WHO), and the United Nations.
The trend has echoes of the concerns behind the Nestlé formula boycott of the 1970s and 1980s in the US and Europe. That campaign contended that the Swiss company's promotion of infant formula over breast milk was unhealthy, particularly in less developed nations where unsanitary conditions and nutritional deficiencies made formula a poor substitute.

New York's move against automatically giving away free formula to new moms at hospitals is seen as a way to increase the incentive to breastfeed. It follows Rhode Island, which last year became the first state where birthing centers and hospitals voluntarily banned giving formula to new mothers in favor of educating them on the benefits of nursing. Massachusetts followed suit in July, with all 49 birth facilities voluntarily deciding to stop handing out free formula.
---