Breastfeeding goals: Over half of new moms miss the mark
(Read article summary)
Breastfeeding goals are largely unmet in the US where 85 percent of new moms intend to breastfeed for at least three months; more than half of all new moms miss that mark.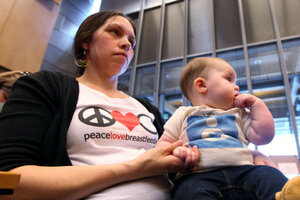 AP
This in from the American Academy of Pediatrics: Although the vast majority (85 percent) of new moms say they intend to breastfeed their babies for at least three months, two thirds of them (or half of all moms) fail to meet their goals. A full 15 percent of these breastfeeding-intentioned moms stop nursing before they even leave the hospital.
The stats are part of an article in today's "Pediatrics," the journal of the American Academy of Pediatrics, and are based on monthly questionnaires completed by thousands of moms between 2005 and 2007 as part of a joint Centers for Disease Control and Prevention and Food and Drug Administration study.
While there are a number of trends that one can sift out of the data – mothers who were married were more likely to achieve their exclusive breastfeeding intentions while moms who were obese or smoked were less likely to do so – some of the biggest indicators of breastfeeding success were connected to what happened at the hospital.
---