Mother's Day: Consider the life lived in 15-minute increments
(Read article summary)
Mother's Day: The prosaic detail of a mother's day – lived in 15-minute increments of cereal, pet-minding, chauffeuring, professional duties, homework, and ... bedtime – is part what we thank her for.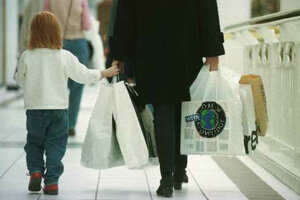 Andy Nelson/Staff
I am the mother of four kids, ages 8 to 14, and trying to launch a business. I live life in 15-minute increments.
Our house wakes up at 6 a.m. during the week. Getting everyone to eat something is a challenge so I let them eat whatever they want – leftover pasta, soup, mac and cheese, cereal, bagels, whatever. Then I either drive them to school, leaving at 6:45 or go to my office and start to work. I usually have appointments racked and stacked as I work with a team located across Korea, India, Vancouver, San Francisco, Mexico City, and Honolulu.
Today, I'm also trying to keep fish from dying. My son went to a birthday party and the party favor was a beta fish. I groaned when I saw it and secretly vowed to get even with the mom. Then my son named the fish Medallion because it was like gold to him. So, yesterday I went to the pet store to get some accommodations for Medallion and we left with six mollies and an aquarium. Anyway, the six mollies are named – Blaze, Spike, Buster (girl), Anna, Crusoe, and Razor.
---