Mother's Day: What happens when mom misses it? Guilt or growth?
(Read article summary)
Mother's Day: A working mom will be on a jet to West Africa, missing the day with her daughters. But, her absence – part of her job as a journalist – can be seen as a gift to them.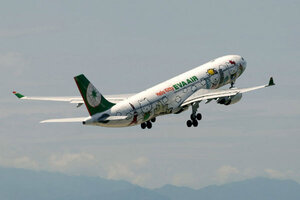 Reuters
Growing up, we always celebrated Mother's Day with breakfast in bed. Dressed in our pajamas, my sisters and I would burst into our parent's room and proudly shower our Mom with brightly-colored cards and a tray of toast, coffee, and fresh flowers.
It's a familiar tradition across the country, and now it's one in my own house. As the mother of two little girls, I am the one being showered on Mother's Day. This year, however, there won't be much time for me, or my kids, to enjoy it.
Shortly after breakfast I'll finish packing, head for the airport and board a plane to Africa.
The trip marks my second to Liberia for a documentary I'm producing on a ground-breaking mental health program there. When I first booked my flight I entered every combination of dates in an effort to avoid leaving on Mother's Day. No matter which search engine I chose, the results were the same. Unless I added 24 more hours to my travel time, I had to fly on May 12.
The more I searched, the more frantic I became. Leaving two little kids for a far-flung corner of the world is hard enough, but on Mother's Day? Suddenly, the specter of Mom guilt had me in its clutches. What message will this send to my girls? Will they feel neglected? Will they one day sit across from a therapist and cry about the time I left them on Mother's Day? What kind of Mother am I?
---