A mom thanks Sendak for giving her son's "Jester" his jingle
(Read article summary)
A mom's wild rumpus of memories of Maurice Sendak: She read to her son "What Do You Say, Dear?" That son eventually was invited to visit Sendak. And when that young man wrote a book – "The Jester Has Lost His Jingle" – about the healing nature of laughter, but died before it was published, Sendak helped launch it onto the New York Times bestseller list.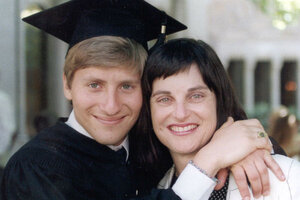 © The Jester Co., Inc., Used With Permission. All rights reserved.
"Hi, Barbara, This is Maurice."
That brief greeting on a Sunday morning in late 1994 was my personal introduction to Maurice Sendak, who died earlier this month and has been inspiring a wild rumpus of memories among our family and friends.
I read Mr. Sendak's works endlessly to my children, Michael and David Saltzman, when I first discovered Sendak the writer and artist. David loved to draw and tell stories from the time he was little. He especially loved Mr. Sendak's whimsical, wicked and imaginative drawings – whether for his own books or those he illustrated for others, such as "What Do You Say, Dear?"
David found Max, Rosie, Little Bear, and other characters drawn by Sendak to be lifelong inspirations for his own artistic creations. We would talk endlessly about the characters Sendak created, how effectively he could convey his thoughts with a few clean lines, his ideas with a few choice words. Of course, none of us ever imagined the vital role that Sendak would later play in David's own life and work.
David felt so lucky to meet Sendak at a Master's Tea at Yale University in February 1986, when David was a freshman. After Sendak's passing, a Yale classmate remembered watching David and Sendak talking together, writer to writer, artist to artist: "Sendak had just given a presentation and I remember Dave hanging around afterwards to get his autograph. The two spoke and laughed and I was just thrilled to be in the presence of two such delightful and talented souls. I've long been a huge fan of Sendak's work, but in my mind Dave always understood Sendak best."
---