Facebook access for under-13 kids is good – if parents involved
(Read article summary)
Facebook is already used by millions of kids under 13 who lie about their ages to gain access. It makes sense that the social media network design specific guidelines for them, including parental permission.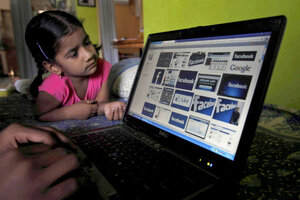 Mahesh Kumar A/AP
You may have noticed a Wall Street Journal article on Monday about Facebook "developing technology that would allow children younger than 13 years old to use the social-networking site under parental supervision."
If so, that's great news. A year ago, Consumer Reports did a study finding that 7.5 million children under 13 are using Facebook, so why would it not be good to have a social site suitable for kids under the "brand name" they love? They're already there! And – though, in compliance with the Children's Online Privacy Protection Act, Facebook says it deletes thousands of under-13 accounts a day – it's clear that the federal law has not put much of a dent in under-13 use of social media. So what's needed is a service actually designed for them, and that's what Facebook is working on, reportedly.
Parents right there with them
The research shows parents aren't unsupportive. Pew Internet reported last summer that adult use of social networking had doubled since 2008, and an earlier study from TRUSTe found that 95 percent of the 80 percent of US parents who have social networking accounts are on Facebook – and of that 95 percent, the vast majority (86 percent) are friends with their teens in Facebook.
---