Father's Day gifts of conversation: from poet Yevtushenko to a jobless steelworker
(Read article summary)
Father's Day gifts: Thanks for the conversations, Dad. A son recalls his newspaper-reporter father's ability to strike up conversations and create bridges of humanity with unlikely people in unlikely places – from poet Yevgeny Yevtushenko to a jobless steelworker.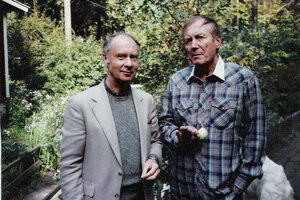 Courtesy of Todd R. Nelson
My father could hold a conversation with anyone. Some of my favorite recollections are of him doing just that. His print, radio, and television journalism career took him to myriad places and stories in 40 years of reporting. He earned a living starting conversations with unlikely people, in unlikely places.
In Chicago he won an award for covering ward politics. He traveled to the southern states at the height of the civil rights movement, and then years later to Ulster at the height of The Troubles. He had plenty of conversations with famous newsmakers, and with the man in the street and the common people behind the news. He put an intimate, familiar face on the big, seemingly remote stories of several reporting eras. [Editor's note: The author's father, Robert Colby Nelson, was a long-time correspondent and editor for The Christian Science Monitor.]
Through his art of conversation, his readers found the heart of a shared humanity. Dad could talk with white men, black men; Protestants, Catholics; the mighty and the downtrodden; rich and poor. Strangers became friends; the untrusting, trusting.
On any given casual outing, dad struck up conversation. He loved to talk with the London cabbies during our years in England, learning about The Knowledge of London driving routes, and the day's politics or most recent trade union action.
---