Tropical Storm Debby reminds mom of her Haiti 'hurricane box'
(Read article summary)
Tropical Storm Debby reminds a mother of preparing for hurricanes in Haiti and Miami with you two children and filling their 'hurricane box' with extra water, food, batteries – and some musical improvisation.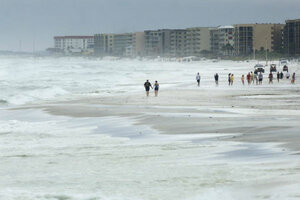 Devon Ravine/Northwest Florida Daily/AP
Hearing about Tropical Storm Debby makes me think of my best friend when I was growing up in Cleveland, where storms with names meant nothing. I didn't know anything about hurricane season – it was snow days I always looked forward to. But when I moved to the Caribbean in the late 1980s, I learned all too quickly about the dangers of the season. And as a new mother, I also had to learn how to deal with the preparations, my anxiety, and the impact it had on my two young children.
I only knew hurricanes were about to reach Haiti when I received frantic calls from my friends and family in the States. Back then, hurricanes weren't a priority on the news radar in Haiti. Besides, daily living there was in and of itself a natural disaster in terms of preparing for hurricanes because of the uncertain political conditions. It was expected that those who could had extra propane tanks for the gas stoves, extra five-gallon containers of water on hand always, shelves of provisional food, batteries, flashlights and a back-up power source.
---