Colorado shooting: children and gun fatalities
(Read article summary)
In the wake of the Colorado shooting, a recent report from the Children's Defense Fund about child gun-related deaths and injuries seems particularly pertinent. Here are the facts.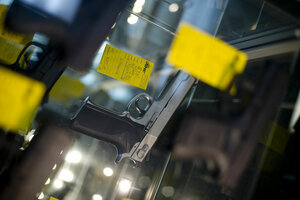 Ann Hermes/The Christian Science Monitor
Given the nation's focus on our most recent, heartbreaking, shooting massacre, it seemed worthwhile to throw out these statistics from a recent Children's Defense Fund report.
In 2008 and 2009, 5,740 children died from gunshot related injuries. That's one child or teenager every three hours. More 15 to 19 year olds died from gunshot wounds in 2009 than any other cause except motor vehicle accidents.
(See, I didn't even say that "guns" killed them. Because I know, I know, people kill people, guns don't kill people. So I'll leave it to you to figure out how people would have killed nearly 6,000 children without the guns.)
Meanwhile, 34,387 children and teens suffered non-fatal gun injuries in 2008 and 2009. Most of those children (26,225) were injured in assaults, with 7,586 injured accidentally.

Since 1979, when child gun death and injury data collection began, 116,385 children and teens have been killed by wounds brought about by firearms.
Black children and teens are disproportionately affected by gun-related injuries and fatalities. In 2009, for instance, black children made up 45 percent of all gun-related deaths, although they were only 15 percent of the country's child population.
And this, according to the report, is a US issue. We have far more guns than other countries (one-third of all households with children have at least one gun in the home) and, sure enough, 87 percent of children and teens who are killed by firearms, and live in high income countries, live in the US.
---