Living abroad: Lifetime friends reconnect, reminisce in Beijing
(Read article summary)
Growing up together — classes, soccer, and prom — lifetime friends Joanna and Emily reconnect while living abroad in Beijing, a place they have both come to call home.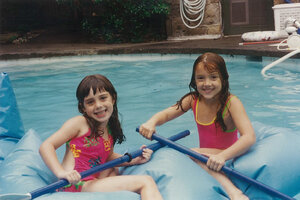 Courtesy of Debra Bruno
My daughter Joanna and her pal Emily have been friends since they first met, the day their older siblings were assigned to the same kindergarten class at Janney Elementary School in Washington, DC. The two 3-year-olds looked bashfully at each other, and Emily's mother and I knew these two would connect.
And they did. Soon enough, they were in their own elementary classes together, playing soccer, going to birthday parties, swimming in Emily's pool, playing dress up, jumping rope on the sidewalk in front of the house. They were paired to march in together for sixth-grade graduation, and they were part of a larger group of girlfriends who seemed to do everything together in high school.
Prom, for instance, brought all the girls to Emily's house for elaborate hair and makeup preparations and a meal. We still have photos of the girls in rainbow-colored dresses, long and short, all of them fresh-faced and gorgeous.
For one of Joanna's birthdays, Emily put together a collage of photos from the lifetime of their friendship, including one in her pool where they wore matching one-piece bathing suits and smiled from atop floats. There's another one with Emily in a cowgirl dress, Joanna in a tutu, posing shyly for the camera. The collage was taped to her wall for years, until we were forced to take down all her pictures, to paint the room and ready it for tenants.
---