Justin Bieber disses Prince William's thinning hair: Let's talk male body image
(Read article summary)
Justin Bieber's youthful diss of Prince William's thinning hair is a window on increasing male body image anxiety. A British study suggests men are fast catching up to women in self-image concerns, finding that 38 percent of men surveyed said they would sacrifice at least a year of their life in exchange for a perfect body.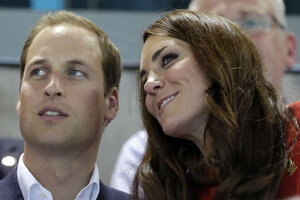 AP
When Justin Bieber fretted aloud to the British media over Prince William's thinning hair this week, what some might see as the cheap shot heard round the world, it served to focus us on the more serious issue of what prompted him to make it – a growing litany of ad-driven male body image issues.
Mr. Bieber is quoted in the British magazine Rollacoaster as saying of the Prince's thinning hair: "I mean, there are things to prevent that nowadays, like Propecia. I don't know why he doesn't just get those things, those products. You just take Propecia and your hair grows back. Have you not got it over here?"
As a parent, my first thought was, "Yipes! Where did that come from?" My guess is that the young star may have been baited with just the right question to pop that answer out of his mouth in what was, to him, probably a casual answer.
Still, it made sense after the onslaught of Weight Watchers targeting men in a new ad campaign and the proliferation of image-conscious ads surrounding the games. It used to be a constant parade of Gatorade, sneakers, and Old Spice commercials during the Olympics, and now it's manscaping tools and heavily perfumed products for guys. The male gymnasts and track stars are the most flamboyant with dyed and quaffed locks and facial hair in neat, trendy patterns and eyebrow piercings.
---