Kindergarten mindset list: 5-year-olds' cultural DNA
(Read article summary)
Legos, ice cream, Mommy and Daddy: An elementary school principal tries to understand the cultural context of the kindergarten mindset.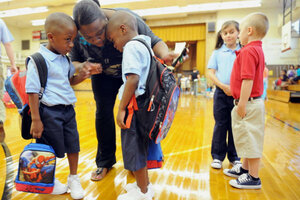 Erin McCracken/The Evansville Courier & Press/AP
Each fall, Beloit College (Wisc.) publishes its "Mindset List:" 75 points of reference for understanding the cultural profile of their incoming freshmen class. More than just a core sampling of the historical events that an 18-year-old would, or would not, have experienced, the list holds a mirror up to the formative experiences for those new students – and, therefore, for their professors.
For instance, the Beloit Mindset List for the post-millennial class of 2014 included the following items:
1. Few in the class know how to write in cursive.
2. E-mail is just too slow, and they seldom if ever use snail mail.
3. Entering college this fall in a country where a quarter of young people under 18 have at least one immigrant parent, they aren't afraid of immigration … unless it involves "real" aliens from another planet.
4. They never twisted the coiled handset wire aimlessly around their wrists while chatting on the phone.
5. The first home computer they probably touched was an Apple II or Mac II; they are not in the museum.
6. American companies have always done business in Vietnam.
---