Why algebra is necessary; why Mom needs to get a grip on math phobia
(Read article summary)
The recent suggestion that not every kid needs algebra is simply avoidance, and Mom needs to get a grip on her math phobia for the good of the family.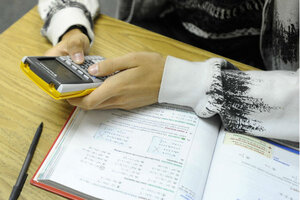 Emily Spartz/Argus Leader/AP
Last week a political science professor named Andrew Hacker published an article in the New York Times, titled "Is Algebra Necessary?" The headline alone triggered my math phobia. Math is right up there with my fear of swimming. (More on my aquaphobia another time.)
In my unscientific poll, my math anxiety is pretty typical for a woman my age. The thought of a quadratic equation – whatever that is – sends me into a panic. It's tempting to agree with Hacker to skip the whole ordeal and just concentrate on the subjects I'm good at.
I don't doubt Hacker's statistics – that 6 million high school students and 2 million college freshmen are suffering under the weight of solving a simple equation like 5x+2 = 3x+10. But the truth is a high school graduate should be able to come up with four as the answer. I almost believed Hacker's argument when he asserted that, "making mathematics mandatory prevents us from discovering and developing young talent. In the interest of maintaining rigor, we're actually depleting our pool of brainpower. I say this as a writer and social scientist whose work relies heavily on the use of numbers. My aim is not to spare students from a difficult subject, but to call attention to the real problems we are causing by misdirecting precious resources."
But then I realized that he is, in fact, asking students to sidestep subjects that are difficult for them. Isn't the point of being a student to challenge oneself? I ought to know. Writers are perpetual students. There's no way around the fact that you have to put in the hours researching, writing and rewriting. Having said all of this, I've never met a writer who didn't think writing was the hardest undertaking in the world. I had a teacher who told me that he psyched himself in front of the blank computer screen with these words: Down, Down, In.
---