Bumbo Baby Seats recall is a bummer: Mom mourns loss of cool idea
(Read article summary)
Bumbo Baby Seats recall is a bummer for this mom: What a cool idea it was – as are a lot of other items recalled in just the past month, from strollers to baby monitors.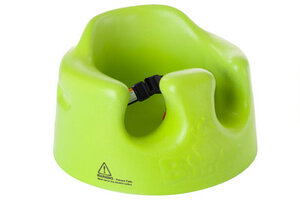 CPSC/AP
I can't be the only one to have read the news of the massive Bumbo Baby Seat recall with just a twinge of sadness.
This isn't because I don't believe in stringent safety standards for baby products – quite the contrary. Surely it's no good to have consumer goods out there that injure kids, and thank goodness some part of government is standing up for our little ones. As Monitor business editor Laurent Belsie reported yesterday, the South African company Bumbo International and the US Consumer Product Safety Commission (CPSC) had received around 100 complaints of injuries related to the baby seat, including more than 20 skull fractures.
Even if that's a tiny percentage of Bumbo users, it's a clear sign that there's a problem.
But the Bumbo – that weirdly shaped and brightly colored foam contraption that allows a young baby to sit like a big kid – was pretty darn cool. We didn't have one ourselves, mostly because we were clueless and didn't know for months they existed, but after being introduced at a friend's house we were enamored. And Baby M loved it.
So, apparently, did many, many other babies. Bumbo International has sold 4 million seats in the US alone, all of which they are targeting in this safety action.
And, well, it's just kind of a bummer that it is unsafe, although the company says consumers can install a new harness system that will help fix the problem.
---