Hazing by a California soccer team: Where does fun become abuse?
(Read article summary)
Hazing involving sexual abuse on a California soccer team is an extreme case. But one study found that 9 out of 10 students who have experienced hazing in college did not consider themselves to be hazed. Hazing can be banal to gross to violent – where do we draw the line?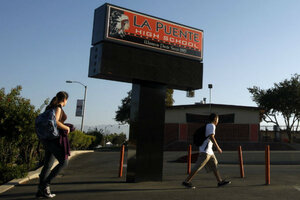 Mark Boster/Los Angeles Times/AP
The accusations from California this week that players on a Los Angeles-area high school soccer team had sexually assaulted younger teammates as part of a hazing initiation has garnered a nationwide gasp.
Local families have protested, a lawsuit has been filed, and news commentators have spent the better part of the week wringing their hands and voicing outrage. How, goes the regular refrain, could such a thing happen?
RELATED: 5 bullying myths - what you don't know
And sure, the case from La Puente High School is extreme. According to the allegations, as many as 10 older students assaulted freshman players in a room next to the coach's office. Some alleged victims even claim that the coach, who has been placed on administrative leave, helped lure the younger students to the hazing.
This level of abuse is perhaps unusual. But "hazing" overall – from the banal to the gross to the violent – is not.
In 2008, a National Collaborative for Hazing Research and Prevention survey of 11,482 post-secondary students found that 47 percent experienced hazing before coming to college. Within college, researchers found, 55 percent of students involved in clubs, teams and organizations experience hazing. And these aren't just jocks or freshmen rushing fraternities. Hazing takes place for students joining everything from the marching band to the young Republicans, researchers say.
---