Background TV exposure may harm children's development
(Read article summary)
Background TV – the kind young children don't watch but experience because the television is on – is linked to problems with play, parent-child relationships, and cognitive performance. A new study in the journal "Pediatrics" suggests that kids are exposed to 4 hours of background television a day.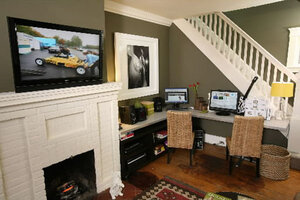 PRNewsfoto/LG Electronics, Inc.
We know, we know. You've heard all about the dangers of "screen time" for your children, and have seen all those statistics about how much television the average American toddler watches any given day.
(Hint: in 2006, the Kaiser Family Foundation found that children 6 months to 6 years watch television for an average of about an hour a day, although more recent studies have come up with much higher numbers.)
RELATED: Are you a 'Helicopter Parent?' take our QUIZ!
But have you thought about what happens when Junior isn't watching, but the television is still on?
Recent studies have identified links between this sort of background television exposure and everything from lower sustained attention during playtime, lower quality parent-child interactions and reduced performance on cognitive tasks, write researchers in an article published today online in the journal "Pediatrics."
And as it turns out, these researchers found, there's a lot of background television in the homes of young children.
"The amount of exposure for the average child is startling," writes authors Matthew Lapierre, Jessica Taylor Piotrowski ,and Deborah Linebarger.
---