Instagram: An app for parents to keep up with their teens
(Read article summary)
Instagram is the No. 1 photo site among 12-to-17-year-olds, according to Nielsen. Parents can have fun with the app that blends photography and social networking.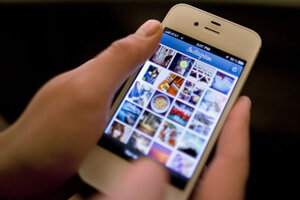 Karly Domb Sadof
I first heard about this little social-networking giant when my then-14-year-old suddenly seemed to be taking a serious interest in photography.
Since then, I've come to see Instagram as more like the next Facebook than just another cellphone app (FB was smart to acquire it!). It's almost game-like because it blends photography and socializing in a playful way, and only partly because of all the fun filter options that, with a single click, can almost make a snapshot look like art (then click again to undo and try another look).
RELATED: Top 5 bullying myths - What you don't know about bullying
Further adding to its appeal – and this is huge, now, especially for young people – is that it's on their phones, making digital socializing much more accessible at school and everywhere else. Seems like pure genius to me (I've had fun playing with it too).
---