iPhone 5: Does your teenager really need a smartphone?
iPhone 5 debuts with the inevitable safety and cost questions: Should your teenager upgrade to a smartphone? Will there be improved parental controls? What's the most savvy, cost-efficient plan?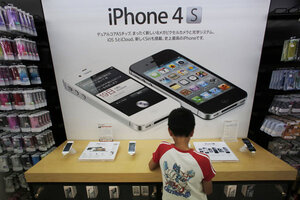 Itsuo Inouye/AP Photo
Your teenager says he needs an iPhone. Naturally.
While you may think Apple's smartphone sounds like more of a "want" than a "need," it's not as crazy or as expensive a request as it sounds.
Indeed, if your teen can live with an older version of the iPhone that's not totally up to date, you should be able to save some big bucks on marked down iPhone 4s and other iPhone devices in the weeks ahead.
RELATED: College budge - 11 items students don't need
And, the experts say, the deals could get even better around the holiday shopping season.
The driving force is the expected rollout this week of the iPhone 5. It's rumored to have a bigger screen, faster Internet connection, an improved battery and a big price tag.
Those customers who want the bigger and better iPhone won't think twice about shelling out hundreds of dollars to be at the head of the line. But for those on a tighter budget, current iPhone models are, or soon will be, selling at retail discounts. That's the pattern every time iPhones upgrade.
For example, Sprint recently cut $50 off the price of the fourth-generation iPhones. Prices range from $149.99 to $349.99, with a contract.
So, if your teen is hankering for an upgrade to an iPhone, analysts say it's best to be patient and take advantage of the window of opportunity to buy the iPhone 4 or other earlier versions at a discount.
---