Romney, Big Bird and Obama: Presidential debates and public media
(Read article summary)
Romney and Big Bird from the PBS show 'Sesame Street' will be enemies if Romney wins the presidential elections in November. Setting off a social media firestorm, Romney informed the American public that funding for public media would be cut if elected.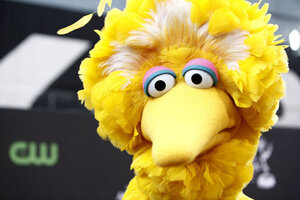 AP Photo/Matt Sayles
Forget Romney vs. Obama. The real choice surrounding last night's debate was: Big Bird or Oscar?
Yes, as you may have heard already, Republican presidential hopeful Mitt Romney's comment in last night's debate that he would cut funding to PBS (but don't worry, some of his best friends are extra large, yellow, feathered creatures) set off a firestorm on planet Twitter and elsewhere in the Internet solar system.
RELATED: Are you a 'Helicopter Parent?' take our QUIZ!
No sooner than you can say C is for Cookie, the nationwide, virtual response was rolling.
Twitter announced that soon after Romney's comments, users were posting 17,000 tweets per minute mentioning Big Bird. Up came the spoof accounts, like @firedbigbird. The hashtag #SaveBigBird trended worldwide. Photoshoppers put together portraits of Romney and Big Bird, and of Big Bird looking for work. (Although some Twitter users suggested that since he's free, Big Bird might think about replacing Red Sox manager Bobby Valentine next year...)
---