Slowing down and using time wisely lets one mom catch her breath
(Read article summary)
Dealing with anxiety generated from family errands, work responsibilities and lists of things-to-do can easily overwhelm. Slowing down and allowing yourself space to live a full life, unhurried, requires a change in mindset.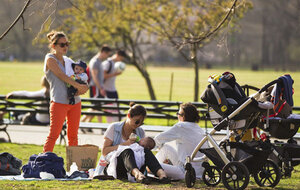 Reuters photo/Lucas Jackson
I pulled up to the 15-item line at the market and watched as a clerk came to open an adjacent lane. A man quickly pulled from a longish line into the new lane. The woman who had been ahead of him looked a little annoyed and then resigned. I caught her eye and asked, "Would you like to get in line here?"
She smiled, "No, thanks. I try not to be in a hurry."
"Me, too. It seems like it's just such a simple but good idea. It completely changes the way you interact with the outside world."
"Isn't that true," she replied.
It was so nice to discover a person with shared wisdom at the checkout line.
We chatted a bit more over the National Enquirer rack. Then we exchanged ideas on the little things we do to keep to that philosophy, such as starting out a few minutes early on every car trip, allotting enough time for tasks, or just stopping ourselves from hurrying when it's not really necessary.
When my kids were little, I would point out drivers who were weaving in and out of traffic and being rude or careless. Then I'd show them that same driver right next to us a few miles later. It helped them see that all that rushing often gets us nowhere faster. Now, as teenagers, they point out those same kinds of drivers to me.
---