Giuliana Rancic's baby trains for Chicago Marathon
(Read article summary)
Giuliana Rancic's baby will be running the Chicago Marathon next year with Mom and Dad... in his stroller.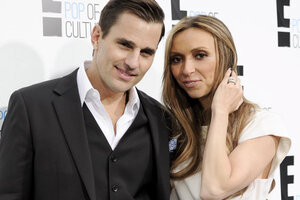 AP Photo/Evan Agostini
There's a pint-sized nugget already training for next year's Chicago Marathon (or some other race), according to celebrity couple Bill and Giuliana Rancic.
Yes, the E! News host and husband, who were hosting a Nike + Run Club event as part of the festivities leading up to the Chicago Marathon this Sunday, announced that next year, their baby Duke would run a marathon with them. In a jogging stroller, of course.
"We're going to train next year," Giuliana Rancic said. "And we're going to stroll him the whole way."
Right.
Hear that, daughter of mine? Baby Rancic is going to let his parents push him in the Bob (or whatever other high-priced jogging stroller I'm sure they have) for enough time to actually train.
He's not going to insist he's hungry at mile four. (And if he does, I bet Giuliana will have remembered snacks).
He's not going to shout "Done!" just as they're pushing him up the super obnoxious hill in their neighborhood. Or "water," even though there's no way he's actually thirsty at mile three.
---