Giuliana and Bill Rancic reveal sex of baby-to-be. Would you?
(Read article summary)
Giuliana and Bill Rancic told guests at their baby shower Sunday that their bundle of joy will be a boy. Americans, it turns out, are split pretty evenly when it comes to finding out the sex of a baby ahead of time.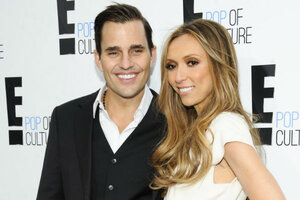 Evan Agostini/AP
Giuliana and Bill Rancic have spilled the beans about the gender of their soon-to-be baby, on the way, thanks to a gestational carrier.
After months of hush hush, the reality television star couple revealed to guests at their baby shower yesterday that the bundle of joy will be a boy, according to celebrity news reports.
"We're beyond excited," Today Entertainment quotes Bill as saying.
Which got us thinking... how many parents find out the sex of their baby before it is born?
This is a hotly contested topic, of course. And as with pretty much everything about pregnancy, childbirth, and the "right" way to welcome new life into this world, people seem to feel perfectly entitled to offer their opinion about what others should do.
(Don't believe me? Just take a look at the mass scrutiny of the pregnant Jersey Shore star Nicole "Snooki" Polizzi's footwear. The when-will-she-stop-wearing-platforms debate has raged for months now.)
A quick Google search on the "should you find out the gender of your baby" question reveals scores of forums, chat groups and blog posts with impassioned "do" and "don't" missives.
---