Family of 7 kidnapped: When news is bad, how to talk to your kids
(Read article summary)
Recent headlines – like "Family of 7 kidnapped," "Six-year-old Maced," and "Women hid boy for 8 years" – portray a scary world, especially for kids without experience to place the facts in context. How one mom puts it together for her four boys.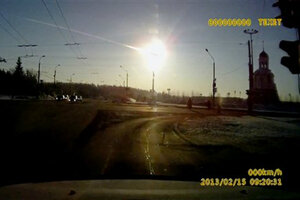 Associated Press
The sky is falling! Really it is, over Russia and Florida. The question is should we tell the kids about it? What do our kids take away from news like: a family of seven kidnapped, a child of six maced in a Laundromat, a boy kidnapped and held for eight years, the Chuck E Cheese killer, and fireballs falling from the sky because in many cases, no news is good news for kids.
Keeping a filter on the news is actually harder than limiting video games and other violent, scary things because even our supermarket, Harris Teeter, has big-screen TVs all around the store, all tuned to CNN with closed captioning. Same thing in the bagel shop, Jersey Mike's subs, and other places we dine. Once a child can read the news, it is twice as hard to avoid because they love to practice with those words on the screen. "M-a-c-e-d? What's that mean mommy?" It means most businesses feel that the safest channel to stay on is CNN and so the kids are bathed in the news images and words nearly everywhere we go.
Of course our kids will have to deal with the "real world" and we do need to make them aware of certain dangers that are out there. But on days like today I tell my Quin, my youngest, age nine, "Umm, please don't read over Mommy's shoulder right now," as I scan the Yahoo News stream online. After the Aurora, Colo. theater shooting my 13- and 17-year-olds both vetoed the Batman movie (that was playing at that theater) saying, "We just can't because it feels too creepy, like we're there enjoying a movie that got so many people killed." The movie wasn't the killer, but it felt like that after a while to my kids.
---