To Princeton alum, It's not about finding an equal, but who can complete the sum
(Read article summary)
Princeton alum Susan Patton's letter printed in the Daily Princetonian advised her alma mater's women to waste no time and find a man to marry at Princeton because, outside of the distinguished university's walls, she'll find an undistinguished breed. Oh, baloney.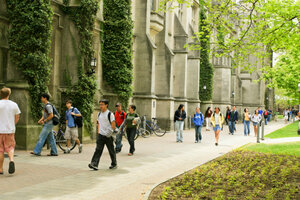 Courtesy of Princeton University
When Princeton alum Susan Patton penned a letter to her alma mater's female students urging them to find a husband in college, she cancelled our appointment with the Love Doctor and scheduled one instead with the Inclination PhD. Aside from leaving many people feeling frustrated, she did get me to remind my sons that higher education isn't a place to shop for a mate and love can't be distilled into a formula of marriage-mind + Megamind = Pi in the sky happy ending.
"For most of you, the cornerstone of your future and happiness will be inextricably linked to the man you marry, and you will never again have this concentration of men who are worthy of you," Ms. Patton, the divorced mother of two sons, wrote in a letter specifically aimed at Princeton's female students. "Here's what nobody is telling you: Find a husband on campus before you graduate."
Trying my best to find something in her letter that will not make me want to fling crockery, I can say I like that Patton is empowering young women to value their intellect over their body image. It's also good to tell a child of either sex to place value on intellectual connection above more transient, physical attractions.
After that I have to shake my head and walk away because Patton didn't just twang the love and marriage chords, she set up an elitist paradigm that is at war with everything we believe about love and marriage.
It strikes down Disney princess and geekette alike.
The Disney version has a girl of humble but pretty origins marrying the man who owns the university, while the geekette script has the captain of the football team falling for the nerdy, unfashionable, smart girl. Both of these are Kizmet-based with nary a mention of anyone's Mensa status.
---