Rescue dog: Albie's first visit to the city proves he's a people magnet
(Read article summary)
Rescue dog Albie dug his heels in on the parking lot ramp, but once out in Boston's chilly excuse for Spring, he unleashed his charm.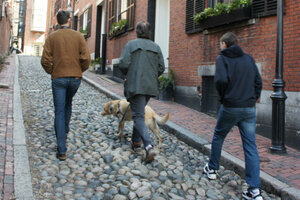 Courtesy of Peter Zheutlin
My niece Annie and her boyfriend Jonah came to visit from Portland, Ore., recently. The Saturday before Easter was a beautiful one by Boston standards, the first decent day in what seemed like a millennium, so we took them on a walking tour of the city. It was so beautiful out that thousands upon thousands of pasty white Bostonians, their hands clenched into fists from 170 consecutive days of gripping ice scrapers, emerged from their burrows and thronged into the streets hoping to glimpse their shadows. It's sad, really, to see people celebrating a day that in most of the country would be considered a day to hunker down and sit by the fire: breezy with temps in the low 50s. But that's life in Beantown.
In any event, we took Albie, our rescue dog, with us. But what I failed to consider was that this was likely the first time he had ever been in a city. He came to us from rural Louisiana and since then he's led a mostly suburban life, with some time spent in the hills of western Massachusetts.
We parked in an underground garage and when Albie emerged from the car he was totally spooked. Indoor garages are filled with sounds I barely noticed before: squealing tires, huge exhaust fans to ventilate the place, car doors slamming. I coaxed Albie toward the staircase but he refused, utterly refused, to enter the concrete stairwell. So I tried to walk him up the car ramp to the street but again he made a stand and decided to plunk himself down right in the middle of the driveway leading to the exit. While occupied trying to cajole Albie up the ramp I failed to notice a car had entered the garage just to my left and the lift gate was up at the very moment I managed to shift myself under it. When the gate came down on my head I was a little stunned but unhurt. Realizing the need for extreme measures, I picked up my 85-pound dog in both arms and carried him up the ramp to the street.
---