Diaper-free babies and co-sleeping: Global parents use techniques we shun
(Read article summary)
In 'Parenting Without Borders: Surprising Lessons Parents Around the World Can Teach Us,' author Christine Gross-Loh reminds us that our ideas of parenting are products of local culture. What's nixed in one locale trumps in another.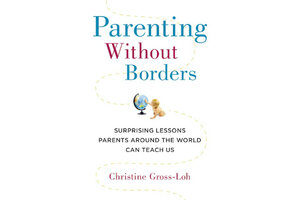 Screenshot of book cover
I knew it!
Even Dr. Ferber, the sleep guru of "just let the baby cry it out" fame (or notoriety, depending in your point of view), concedes that there are many viable ways for a baby to sleep. This is just one of the many wonderful nuggets of information that Cambridge writer Christine Gross-Loh brings to the table in her new book Parenting Without Borders: Surprising Lessons Parents Around the World Can Teach Us.
It's tempting to call Gross-Loh's book a reference guide, but that would be giving short shrift to this wise and entertaining compendium on child-rearing. Her goal is simple: as borders blur and the world gets smaller, effective parenting can be more easily shared around the world. Gross-Loh delves into many traditions for advice on everything from co-sleeping, eating habits and guerilla marketing to our kids.
But back to Dr. Ferber for a moment. Ken and I had our own borders when it came to parenting Anna as a baby. Aside from the fact that we had no idea what we were doing, in a word the thing we craved most was sleep. But we had very different ideas of how exactly we would get Anna to sleep and tackle our own sleep deprivation. I was brought up by a Latina mother, and by extension much of my mother's family. Though we didn't call it that, co-sleeping was not out of the norm. If I had a bad dream I crawled into bed with my mother. My American father was not so thrilled about my visits and usually ended up switching beds with me.
And so these cultural differences continued in my marriage. Gross-Loh happens to be a proponent of co-sleeping. She and her husband and their four children have ended up in various groupings throughout the night. She also investigated co-sleeping in countries like Japan and Sweden where the family bed is a way of life. When Anna was born we lived in Baltimore where co-sleeping was not exactly in vogue. I swear I gave "Ferberizing" a decent try, but I just couldn't do it. My very patient husband had to finally accept that Anna would be hanging out with us occasionally.
---