Though reports about bullying are increasing, the behavior itself is not
(Read article summary)
Bullying, according to new data, is down among US middle school students, despite an increase in media reports coving the subject. In fact, violence has dropped nearly 75 percent in the last two decades.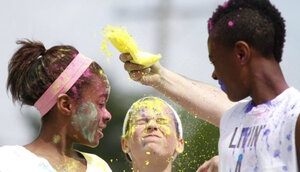 John Ehlke/West Bend Daily News, AP
Do people ever consider the possibility that, if they're exposed to increased reports about a social problem, it's the reporting that has increased rather than the problem? It's increasingly clear that this is the case with school bullying: Only news reports about it have increased, not the behavior itself. In fact, both bullying and fear of it are down among US middle school students (the grade levels that tends to experience bullying most), Education Week reports, citing new numbers from the National Center for Educational Statistics.
This is data reflecting both physical and verbal aggression. For all students in grades 6-12, "hate-related graffiti" in school classrooms, bathrooms, hallways, etc. "dropped from about 36% in 1999 to about 28% in 2011. The rate of students who reported fearing an attack or harm at school at all has also dropped dramatically, from nearly 12% in 1995 to less than 4% in 2011. For black and Hispanic students, it's an even more encouraging shift—from more than 20% of both groups of students worried about being attacked at school to less than 5% in 2011 [the latest figures available]."
74% decline in school violence
The decline in actual physical violence in schools is even more dramatic: It was down 74% between 1992 and 2010, according to the latest US Department of Justice data, which was cited by David Finkelhor, director of the Crimes Against Children Research Center at the University of New Hampshire, in a paper he published last January.
"The surveys that reflect change over the longest time periods, going back to the early 1990s, consistently show declines in bullying and peer victimization, some of it remarkably large. The more recent trends, since 2007, show some declines, but less consistently." This is true internationally too. Dr. Finkelhor cited a study of bullying in the journal Social Psychology of Education showing a decrease in bullying in all nine data sets the authors reviewed.
---