Anti-bullying: Gay agenda, or not, the most vulnerable are losing
(Read article summary)
Anti-bullying movements, accused by conservative Christians of having a gay agenda, do tend to focus on gay victims because studies show they're bullied most; but anti-bullying hype inflates what bullying really is. Both sides may be missing the point: helping the most vulnerable.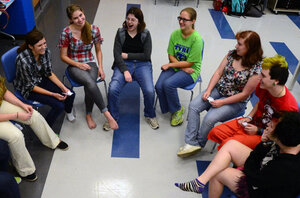 Joe Harpring/The Republic/AP
At first glance, a national, annual anti-bullying program that took place earlier this week appeared fairly run-of-the-mill. Organized by the Southern Poverty Law Center, the "Mix it Up at Lunch Day," encourages students to sit with someone in the cafeteria with whom they would not normally socialize. It's a way to build tolerance, organizers say, and thus reduce bullying.
While we might be skeptical about the effectiveness of this sort of anti-bullying effort – and we certainly wonder about the social dynamics that go along with that lunch period – it didn't strike us as all that different from any other anti-bullying program you might see any day, anywhere, in this bully-crazed country.
Except this time there was a controversy.
Controversy, I might add, that sheds light on one of the more interesting tug-of-wars going on beneath the surface of the national anti-bullying movement.
A news story we ran earlier this week looked at how the Mix It Up at Lunch Day became the target of protests by the American Family Association, a conservative Christian group that sees anti-bullying programs promoting "tolerance" as also promoting an "immoral" and "pro-homosexual lifestyle."
---