I'm a dad, not a hero: Thoughts on Tom Stocky's Facebook post
(Read article summary)
Tom Stocky wrote an essay on Facebook about paternity leave and gender inequality. What resonated for this blogger is: dads taking care of kids is ordinary, not heroic.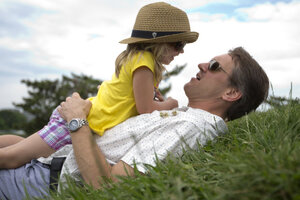 AP Photo/Carolyn Kaster
Tom Stocky, a Facebook executive, reflected on paternity leave and gender inequality in child-rearing in an essay on Facebook. More than 7,000 people have liked it. It seems that many more will like it before it runs its course – the essay raises a number of great points about work-life balance, the parent-child bond, and the relationship between work and family, popping the top off of an awful big can of philosophical worms in the process.
Reading his essay, it struck me that he'd posted it somewhere else, in an edited form, and I was half right: there's also a recent Slate essay entitled "I'm Not a Hero for Taking Care of My Kids." It's by a different author who nails many of the same points – all of which resonated for me, incidentally, as a freelancer dad who splits childcare with his self-employed wife. In short: dads taking care of kids is ordinary, not heroic, and it's important, and needs to be supported as a new status quo.
Although the publication date of these essays is coincidental, it's no surprise that the sentiment is being expressed right now. Questions about family structure, the male role in child-rearing, and workers' rights are all hot right now.
---