Lessons from a family on the road: Travel makes the heart grow fonder
(Read article summary)
The Toupin family gears up to head home after a month-long trip across the country. The highlight of the trip: just being together.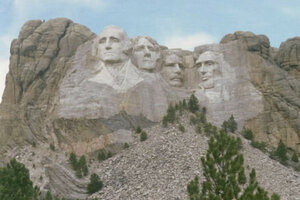 AP Photo
We have watched an entire moon wane and wax since we left home more than a month ago. A blue moon rose this week. And this should usher us home in another couple of days.

The sun sets in Chiacgo at about 8:30 p.m. One month ago, it set an hour later. Summer is turning like the leaves in Ohio. And as we head back to the northeast, we find that many children are already back in school.

We are all ready to be home. It has been a wonderful trip and one that we would do again in a heartbeat. But when we saw Honey, our Guinea pig, last night on FaceTime, Jacob, our five-year-old, tried to hug the iPad. Even he is ready to be home.
Some of the lessons I have learned:

Rest areas can be wonderful places to spend the night.
The kids played this superhero game at a rest area on I-80 eastbound about 100 miles outside of Salt Lake City. The rest area overlooked a wild horse meadow. Surrounded by mountains and acres of prairie, this was nicer than some of the campgrounds we've found. After a late supper of sloppy Joes, the kids ran around, in, and out of sprinklers, saving the world.
"My name is Raptor Attack, and I have super speed!" Jacob proudly announces.
"I am Flex," 9-year-old Colie tells me. "I have super gymnastic powers."
"I am Speedstar," adds 11-year-old Maria. "I have super sports powers."
---