Toys R Us in UK adopts 'gender neutrality': Do toys have a gender?
(Read article summary)
Toys R Us has agreed to remove gender assignments to toys in its stores in the United Kingdom. Should toy stores eliminate the pink and blue aisles entirely?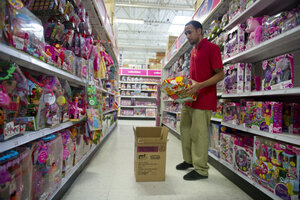 Ann Hermes/The Christian Science Monitor
Is gender neutrality the hot new thing when it comes to toys?
Inasmuch as a term as abstract as "gender neutrality" can sweep to popular acclaim, the answer may be "yes."
Starting with a Swedish holiday campaign for Toys R Us last year that showed girls shooting a toy gun and boys and girls playing together in a kitchen, pressure has started to mount on the industry-leading toy store to abandon decades-old marketing conventions that segregate most toys into one gender or the other.
A British parents' group called Let Toys Be Toys has succeeded in persuading British Toys R Us stores to "draw up plans for how to make its marketing more inclusive, and remove explicit references to gender in store," as well as tailor advertisements to break free of traditional gender constraints.
The changes have begun to be felt on this side of the Atlantic as well, with local journalists picking up the story and a Change.org petition pushing for an end to gender-based toy marketing picking up steam (it's up to 2,912 supporters as of the morning of Sep. 25 – not much in absolute terms, but a concrete sign that the topic is sparking passionate discussion and even advocacy.)
---