Heather Lochlear, Richie Sambora: Preserving family time post-divorce
(Read article summary)
Actress Heather Lochlear and Bon Jovi band member Richie Sambora divorced in 2007, but still get together regularly to make sure their daughter doesn't miss out on family time. A salute to the real-life families who achieve amicable divorce.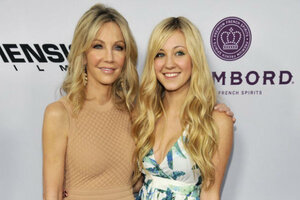 Chris Pizzello/Invision/AP
Ava Sambora, 16, is a fortunate kid not because she got her mom Heather Lochlear's good looks or because her parents held her birthday party at the Four Seasons Hotel but because her parents have managed to give her the daily gift of remaining friends after their divorce.
People like me, who grew up in the middle of an ugly divorce where reconciliation was made impossible by one parent being a violent alcoholic, missed out on one of the most vital experiences of childhood, "family time."
So I sit in awe of parents like Lochlear and her ex, Richie Sambora, who ended their 13-year marriage in 2007, for their ability to be friends and give their daughter that "family time" experience.
This isn't just something to be done by the well-heeled, beautiful, and famous people.
My friends, Richard and Cheryl, divorced, have two kids and have remained a family where it counts, in the preservation of "family time."
They have managed to integrate new relationships and kids into the mix as seamlessly as a master weaver makes a tapestry.
I met them when our sons became best friends 10 years ago and honestly looked at them like a pair of rare birds. I studied them from afar.
Each of them is my friend. Richard is a filmmaker who plays Dungeons and Dragons with my sons. Cheryl is a nurse, but also a talented painter with whom I can sit and talk over a glass of wine.
I have never asked why they split, but from what I pieced together it was sad and heart-breaking as any divorce has ever been.
While I know there were wrongs, slights, and hurts that caused their split, there is no "side" to take because they never, ever say an unkind word about the other whether the kids are around or not.
It is totally out of my personal experience or logic system to see them interact because I grew up in a more typical post-apocalyptic divorce environment.
---