Is 'zero tolerance' bad for education?
(Read article summary)
Zero-tolerance policies have become commonplace in American schools, however some, including the Pennsylvania ACLU, say that schools are taking zero tolerance too far.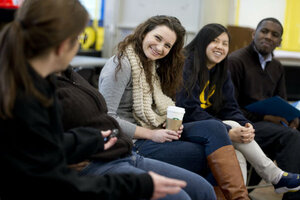 Ann Hermes/The Christian Science Monitor
Does a "zero-tolerance" approach to school discipline keep students safer or disrupt the educational process? The answer is, of course, complicated, but a new report by the American Civil Liberties Union of Pennsylvania [PDF of report here] presents an argument that the approach has sprawled greatly from its original anti-gun goals and that the impact has largely been to push students out of the classroom.
Zero tolerance was introduced in Pennsylvania in the 1990s, and, based on a 1995 state law, it required the expulsion of students found possessing a (broadly defined) "weapon."
But as the study goes on to note:
In Pennsylvania, as around the nation, zero tolerance took on a life of its own. Particularly over the last 15 years, it infected the culture of schools so that an even broader range of behaviors and conflicts, like school uniform violations or talking back to adults, became the basis for removal from school, even when removal was not required by law."
Sacrificed on the altar of order in schools: things like due process, conflict resolution, and the exploration of solutions to prevent future conflicts. And alternative discipline systems that focus on principles like restorative justice are sidelined as well; there's no opportunity to work through a collaborative process when mandatory suspensions are the default answer to many or most problems.
An Education Week story about the report illuminated the sheer number of suspensions in the system:
---