Pumpkin velouté with pimentón and chipotle
(Read article summary)
Spicy pumpkin soup was an easy and creative dinner for these new (and tired) parents.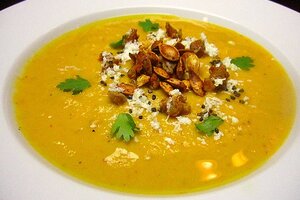 We Are Never Full
It's one of the ironies of being a new parent that even though we are spending more time than at any other point in our adult lives at home, we are finding it virtually impossible to do any cooking. Even when we do steal a few moments of quiet to get behind the burners, by the time the food is done, so is the nap our baby was taking. Of course, eating your dinner cold is nothing new to a food blogger – teasing the plating and getting just the right lighting usually takes a while – but at least we used to be able to eat our tepid meat and congealed sauce without the throaty vocal stylings of a five-week-old as an accompaniment.
Another delightful aspect of being a home-bound parent is that, when leaving the house involves assembling ten things, a stroller and an acquiescent child, one is motivated to make use of what is close at hand. In a moment of hunger-inspired desperation this past weekend, we took that maxim to its logical conclusion.
Literally lying beside our front door was a pair of pumpkins we had originally intended to carve for Halloween had our sculptural ambitions not been thwarted by the arrival of said infant. Still edible, they were quickly hacked, seeded and roasted in a hot oven with salt and pepper while the baby slumbered peacefully in his swing. In a "waste not, want not" moment, also into the oven went the pumpkin seeds seasoned with chipotle powder and brown sugar, emerging a scant twenty minutes later, crispy and snack-tastic. The baby, now stirring, its nostrils a-quiver.
---