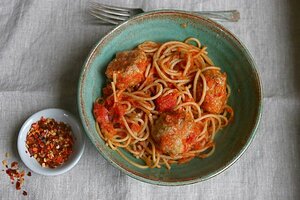 In Praise of Leftovers
If you've been around me at all in the last three weeks, you know I'm engaged in a purge-a-thon around my house. If I don't absolutely love it or it's not essential and useful, it's being unloaded at Goodwill. This has meant (gasp!) several cookbooks, too. Usually ones that had nostalgic value, but hadn't been cracked open in years.
Jordan and I were wandering through the bookstore while she was home from NYC, and I had just finished pronouncing I was done with books. If I can't get it at the library or on my Kindle, forget it. Sarah the Minimalist is moving in. Then we came to the cookbook table, and Nigella Kitchen was 50% off. Beautiful, hardbound, full of her witticisms, great photos, and practical recipes. I looked at Jordan and said, "Forget everything I just said."
This recipe is an example of her accessibility. Granted, I don't need a recipe for tomato sauce or meatballs, but sometimes the discipline of following one gets me out of my ruts and habits. For instance, I'd never put pureed celery in a sauce. But the way she does it here give the sauce a brightness and sprightliness that I love.
Mixed with a pound of whole wheat spaghetti, topped with snowy shavings of parmesan, this made enough for two family dinners and a few lunches, besides. Definitely enough to justify the space the cookbook takes up. Right?
Turkey Meatballs in Tomato Sauce
I've changed the recipe significantly in that I bake the meatballs instead of dropping them into the sauce (as called for) or frying them, as many recipes suggest. I've never been happy with either method. Frying takes forever, as you need to do it in batches to avoid crowding. And dropping them in is supposed to produce the most tender meatballs, but the last time I did that, Mush Central. So I'm all about this new method. Perfect! Easy! Tender!
For sauce:
1 peeled onion
1 celery stalk
2 tablespoons olive oil
4 garlic cloves, minced
1 teaspoon dried thyme
2 14 ounce cans diced tomatoes
3 cups water
1 teaspoon sugar
1 teaspoon kosher salt
Pepper, to taste
---