Vegan curried parsnip soup
(Read article summary)
A creamy and delicately flavored parsnip soup with just a hint of heat.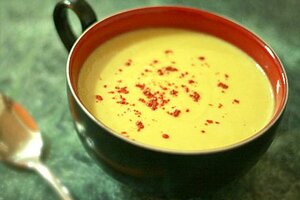 Novel Eats
When we lived in New York we were members of a local community supported agriculture group (CSA), Hellgate CSA. The setup was that we would pay for a season of vegetables and fruits, then each week our farm(s) would deliver freshly picked produce to a central location where we would then gather our bounty. It was because of that CSA and those farmers that I have such a passionate interest in food. Yet, I admit that it wasn't always perfect. Because of the way it was structured (and many CSAs follow this model), we didn't have a huge choice in the food that we would get from week to week, so it was either an opportunity to discover something new to love or, yes, something to never want to eat again (I still have yet to figure out if I ever want to try bitter melon of my own accord again).
Not too long ago we joined another CSA run by Full Circle Farm in Washington. It's modeled in such a way that we have more choice, however they still will send you a predetermined box of produce if you do not make any changes. A couple of weeks ago I saw that we would be receiving parsnips and I can't say I was thrilled about them. I had parsnips for the first time in New York, likely thanks to our first CSA, and I recall that I roasted them along with some other vegetables, but I didn't quite like the combination of flavors and never was inspired to eat them again. (Parsnips, if you have never had them, are similar to carrots in sweetness, but otherwise the flavor is somewhat unusual and savory.) But I realized that I couldn't let parsnips go by the wayside this time, and so I left them on the list.
I'm so glad I did, because I wound up making this very creamy and delicately flavored parsnip soup. It's perfect as a starter to a meal or on its own with some salad or bread. While the curry in this dish does add additional spiciness, it is not hot. To add some heat, sprinkle some red pepper flakes to each individual bowl for a little kick.
Curried parsnip soup
Recipe based upon Spiced Parsnip Soup from Allrecipes.com
---