Mardi Gras food: Fastnachts doughnuts for Shrove Tuesday
(Read article summary)
Mardi Gras food consumed the day before Lent is celebrated in German-American kitchens with decadent doughnuts.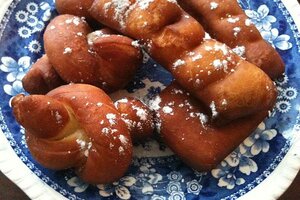 Karen Hammonds
It's funny how Lent, a period of penitence and fasting, gave rise to so much creative decadence in the days leading up to it, from parades to masked balls to sinfully rich foods. In medieval Europe, fat and sugar were forbidden in Lenten cooking, and so Shrove Tuesday, the day before the start of Lent, was a busy day in the kitchen. The English made pancakes, the Poles jelly doughnuts called paczki. In Germany, women bustled about frying up doughnuts called fastnachts (German for "Eve of the Fast").
Many centuries later, my German-American grandmother followed this tradition, and although I can't claim that her fastnacht recipe was handed down through the generations, I like to think of her tapping into this nearly ancient tradition. Her golden-brown fastnachts, dense and rich but not too sweet, achieved a near mystical perfection when dipped, still warm, in dark corn syrup and dunked in confectioner's sugar.
My brothers and I fell under the spell of fastnachts as children, and our family would drive us for hours to visit our grandmother in Pennsylvania when she made them. She tried to do so before Lent but sometimes cheated a little on the timing, as do I now that I have taken on the fastnacht-making mantle. But I normally make them either before or early in Lent, and only once a year; their rarity is part of their charm.
---