Meatless Monday: Hot and sour lime soup
(Read article summary)
Green is the color of spring, growth, and spicy hot and sour lime soup.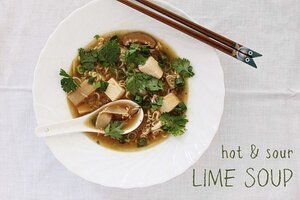 Feasting On Art
This post is part of Feasting on Art's The Colour Project.
When considering the color green, there are a number of connotations that are promptly conjured; green is the color of money and wealth, through which one can become "green with jealously." Likewise, it is the color of nature, growth, and life and one can have a "green thumb."
It is within the secret green porcelain of China, called mi se meaning "mysterious colour," that the two connotations of the colour intersect. Mi se was produced in the 9th and 10th centuries in China and was reserved for only the Emperor to see – let alone use – and the porcelain was so secretive that first verified example was not discovered until 1987.
The porcelain was more valuable than gold and silver although its popularity "stemmed partly from the Chinese tendency to mythologise art, in order to appreciate it better (1)." The green color of mi se was derived from a small amount of iron in the glaze and the porcelain itself was obtained from nature. Mi se "comes from the mountains – from their earth and their forests. The wood was used for firing…and the clay was used for the body of the porcelain. But the two together – as wood ash and kaolin – were also used for the glaze that makes up its delicate skin and jade-like colour (2)." This green porcelain of the earth represented the pureness of nature yet was an elusive commodity that embodied the wealth power of the Chinese elite.
---
Follow Stories Like This
Get the Monitor stories you care about delivered to your inbox.