Mardi Gras 2011: New Orleans-style buttermilk beignets
(Read article summary)
Mardi Gras 2011 wouldn't be complete without enjoying warm beignets.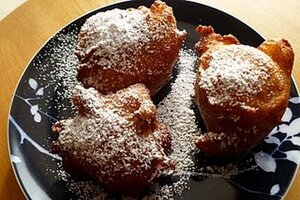 The Pastry Chef's Baking
Do you have a foodie bucket list? Every foodie I know has some sort of foodie bucket list - you know, both the food you want to eat before you die and where you want to eat it. Some people want to eat at French Laundry, some want to take an Italian cooking course in Tuscany, etc. I've done a fair number of things on my foodie bucket list: eaten a fresh baguette while strolling down the Champs Elysee in Paris, had gelato in Florence, lobster in Maine, fresh pineapple in Hawaii, noodles in Beijing, and pavlova in New Zealand, gone to the Ghirardelli Chocolate Festival, and learned how to make chocolate in Belize.

I still have a fair number of items on my foodie bucket list still to do, eat, and visit. Just below attending the National or World Pastry Championship, next on the list at the moment is to enjoy beignets at Cafe du Monde in New Orleans. Beignets are deep-fried dough – but don't think they're doughnuts. They're French. They have to be more uppity than that. The dough is usually not as sweet as doughnuts and their sweetness comes from the confectioners' sugar normally sprinkled on top. I've done deep-fried bread concoctions before, my favorite being zeppoles (fried Italian dough balls made with ricotta cheese), but have never made beignets. In honor of Mardi Gras or Fat Tuesday, I thought I'd give it a go. The advantage of having 200-something recipe books is I likely have a recipe for everything. It also helps that this particular recipe book has a sub-title of "Desserts to Satisfy Your Sweet Tooth, New Orleans Style."

It was a last-minute decision to make the beignets as I didn't even realize it was Mardi Gras until a friend reminded me. The beignets themselves weren't that sweet. Instead, the sweetness came from the powdered sugar sprinkled on top. Having never made beignets before and the rare times I've tried them before they weren't warm, I'm not sure how this recipe stacks up. I guess I'm just going to have to go to Cafe du Monde and try their beignets so I can gauge the bar.

---