Vegan Irish soda bread
(Read article summary)
Looking for a vegan Irish soda bread recipe? This one has no eggs, and is super easy and fast to make.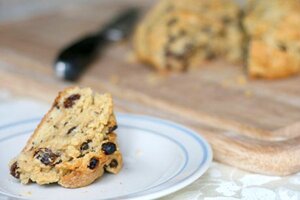 Novel Eats
There are two things I associate with St. Patrick's Day: wearing green and being pinched if you forget to wear green (meanwhile claiming that you are wearing green underwear, so please stop pinching me!). But now that I feel like I am a verifiable amateur home cook, I am now adding a third item to the list – learning how to cook some new Irish recipes every year in March.
I don't recall ever having Irish soda bread, but I was definitely ready to try it. There are so many variations of this bread, many of which call for eggs, that I wanted to find something that could be veganized without the use of an egg substitute. I was really pleased for two reasons when I came across Nana Dot's Irish Soda Bread Recipe – first, it had no eggs (yay!) and second, it is a family recipe that comes from Ireland. I love it when I find something that has history and authenticity.
I was also really curious by the list of ingredients. A lot of the recipes I had run across did include things like raisins, but this was the first I had seen using caraway seeds. The recipe had so many rave reviews, though, that I trusted I'd probably like it with the added unusual flavor. The end result was most certainly interesting – very scone-like, not too sweet, and a lot of balanced flavors milling about together. Truthfully it reminded me very much of other European breads I had years ago when studying in Spain, which was a nice thing because it just added to the authenticity of this bread.
Vegan Irish soda bread
Adapted from Nana Dot's Irish Soda Bread Recipe on Allrecipes.com
---