Celebrate spring with pasta primavera
(Read article summary)
Primavera means the season of spring in Italian. Pasta primavera should be made with the crisp vegetables of spring.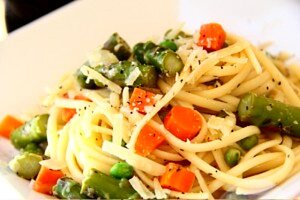 Three Many Cooks
Watch a video of Sharon Anderson making her pasta primavera here.
As a grad student, I'm not exactly rolling in the dough (unless you count bread dough). So, I eat pasta…a lot. But there are only so many times I can eat tomato sauce, no matter how fancy I make it. In this week's USA Weekend column, I share my technique for making pasta with vegetables in a light, flavorful, wine and broth-based sauce. This is my absolute go-to formula for fast and fresh weeknight dinners. You can use any vegetables, any wine (or none), any broth, any herbs, and you can even add sausage, bacon, or chicken … they sky's the limit. Just be sure to taste along the way, try new things, and trust your instincts!
Pasta primavera
Serves 4
12 ounces linguine, or other long pasta
2 tablespoons olive oil, more for drizzling
1 large onion, diced
2 medium carrots, diced
3 garlic cloves, minced
1/4 teaspoon crushed red pepper flakes, more to taste
3/4 teaspoon dried thyme
1-1/2 cups dry white wine
1 cup low-sodium chicken broth (or vegetable broth)
1 heaping tablespoon capers, roughly chopped
1 bunch asparagus, cut into bite-sized pieces and tough ends discarded
3/4 cup frozen peas
1 lemon: 2 teaspoons zest, 2 tablespoons juice
2 tablespoons unsalted butter
1/2 cup freshly grated Parmigiano Reggiano, more for sprinkling
Kosher salt
Black pepper
Bring a large pot of salted water to boil. When water is boiling, add the pasta and cook, stirring occasionally until al dente.
---