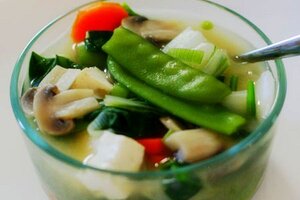 Novel Eats
I'm not a big fan of northern winters. Unless it snows, it seems kind of pointless to me to have it dip down well below freezing every day, and the process of bundling up is time-consuming. So you can well imagine that I'm so glad that spring is here. We still get a few chilly days now and then, which means that hot soups are still in season.
One of my favorite soups to make is a hearty vegetable miso soup. Miso, as you may already know, is a fermented soybean paste and can be used in a variety of dishes.
However, it's probably most well known as a base to Asian soups. I first started making my own miso soup a few years ago, and am probably not making it in an authentic Asian style, but the recipe that follows is delicious and is my own (although I'm sure I'm not the first to throw this particular set of ingredients together).
First things first, though. There are a few things to keep in mind when making this:
Use whatever vegetables you want, but make sure that most or all are fresh.
Don't overcook the soup – you want the vegetables to have some life left to them.
Don't add salt if you don't have to; miso has plenty of natural sodium already.
Taste test the broth after you've added miso. If it's not a strong enough flavor for your palate, add more.
Miso Vegetable Soup
8 cups water
2 large carrots, peeled and sliced
1 package white button mushrooms, sliced
2 cups bok choy or toy choi, chopped
2 cups spinach, fresh
1 cup snow peas, trimmed
1/2 cup scallions, chopped
1 package medium firm or extra firm tofu, cubed
3 to 5 tablespoons miso
Bring the water to boil in a large pan.
As you're waiting for your water to boil, prepare all of your remaining ingredients.
You can add the carrots to the water before it boils or just after, and cook for about five minutes.
---