Pasta con le Sarde: Sicily on a plate
(Read article summary)
A strikingly simple plate of spaghetti, fennel, onions, and sardines garnished with golden raisins and pine nuts.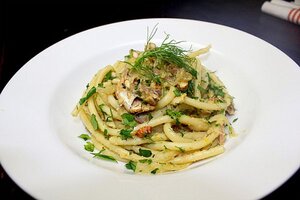 We Are Never Full
Greeks, Romans, Moors, Normans, Spaniards, Giuseppe Garibaldi and his thousand, and finally hordes of tourists have visited Sicily over the millennia. Some stayed for centuries, some only for generations, but even those whose sojourn was comparatively brief played a role in the island's blending of cultures and traditions.
If this human concoction can be distilled into a single dish, it might be pasta con le sarde – long pasta with sardines. A strikingly simple plate of spaghetti, fennel, onions, and sardines garnished with golden raisins (sultanas) and pine nuts, but its layers of flavor and texture speak of Sicily's multifarious heritage. Grapes, introduced by the Greeks in the 7th century B.C., combining with the tradition of using dried fruit in savory dishes adopted from the Moors, the abundant use of saffron borrowed from the Spanish Bourbon monarchy, and the native reliance on cheap and readily available ingredients of the highest quality in the onions, foraged wild fennel, pine nuts, and the island's golden olive oil.
And, just like the variegated Sicilian identity, the disagreements over what constitutes a real pasta con le sarde are multihued. Some prefer a thicker long pasta like perciatelli or bucatini over spaghetti, some add breadcrumbs, some refuse to add anchovies, others only saute half the sardines with the sauce, breaking the other half into mix after the pasta has been added to the pan, and yet others would crumble almonds over the assembled dish and bake it in a moderate oven for 20 minutes. The biggest philosophical difference though, lies in the presence of tomato paste. Palermitano's typically leave it out altogether, whereas cooks further west and south in Trappani, Marsala and, particularly Agrigento, would claim it as an essential ingredient.
---
Follow Stories Like This
Get the Monitor stories you care about delivered to your inbox.