Tips for cake decorating with fondant
(Read article summary)
Baking and decorating your own cake will give you a real feeling of accomplishment.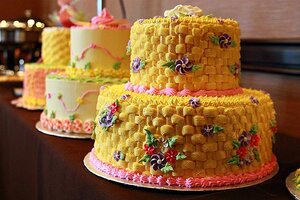 Ravenous Couple
It's true, we can't think any celebration where there's no cake. Cakes are synonamous to celebrations as flowers are to spring or fish sauce is to Vietnamese cooking – it just goes together. Making a cake from scratch and decorating it must be a truly satisfying endeavor and yet, something we've never actually accomplished. So when the opportunity to learn decorating from the best teachers of Wilton School of Decorating and Confectionary Arts, we couldn't pass it up.
We gladly traded a warm, sunny California day for an opportunity to wield piping bags of sweet butter cream and balls of fondant. Our teacher Sandy Folsom, whom we shall call "the Professor," is director of The Wilton School of Decorating and Confectionary Arts and has more than 30 years of experience teaching cake decorating. Her partner in crime, Nancy Siler, is also a pro decorator with more than 25 years of experience. Together they taught us the essentials of decorating and we gobbled it all up like eager students whose final report cards depended on it.
---