Browned butter oatmeal cookies
(Read article summary)
Browned butter adds a delicious flavor to the classic oatmeal cookie.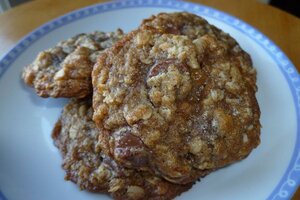 The Pastry Chef's Baking
April 30 is National Oatmeal Cookie Day. (What an awesome country we have in that it has foodie "holidays"!) So, in my continuing quest for a perfect oatmeal cookie recipe, I turned to Alice Medrich's latest cookbook, Chewy Gooey Crispy Crunchy Melt-In-Your-Mouth Cookies, another book I want to eventually acquire but prudently borrowed from the library instead.
What caught my eye is that the recipe calls for melting the butter. That immediately made me want to make the cookies with browned butter, similar to what I did with Alton Brown's chocolate chip cookie recipe. Now that recipe has become my go-to recipe for chocolate chip cookies so I thought I could give Alice Medrich's recipe a boost by doing the same thing. What I also liked about all the recipes in this book is she gives the weight measurement of the ingredients as well as the more traditional volume measurements. If you have a food scale, it's better to weigh out your ingredients rather than volume measure them – it's more accurate that way.
Browned butter smells good and makes everything tastes so much better. Just mixing this cookie dough together was an alluring experience. If I was the type of person to eat cookie dough, I could probably have downed half the batch in raw form. Fortunately, I'm not and it was easy enough to put the bowl of cookie dough in the fridge to cool, unscathed. Harder to wait overnight to bake the cookies. The dough became considerably firmer after being chilled overnight so it was a little difficult to scoop into dough balls. I'd advocate making the dough balls right after you mix the cookie dough and then chilling (not freezing) the dough balls if you want to bake them the next day. The reason for not freezing them immediately is to let the oats absorb the moisture of the dough first.
Overall, this was a good cookie. I underbaked them slightly so the edges weren't as crisp as I think they were meant to be but the middle was gooey. I liked the caramelized taste a lot from the browned butter. The cinnamon doesn't come out very much, probably because the browned butter is more prominent but I consider this another solidly good recipe from Alice Medrich.
(See next page for Browned Butter Oatmeal Cookie recipe)
---